14 Day Easter Island and Atacama Desert Exclusive
Booking Dates
01/19/2022 through 12/15/2023
Travel Dates
10/05/2018 through 12/31/2023
Provider
Kensington Tours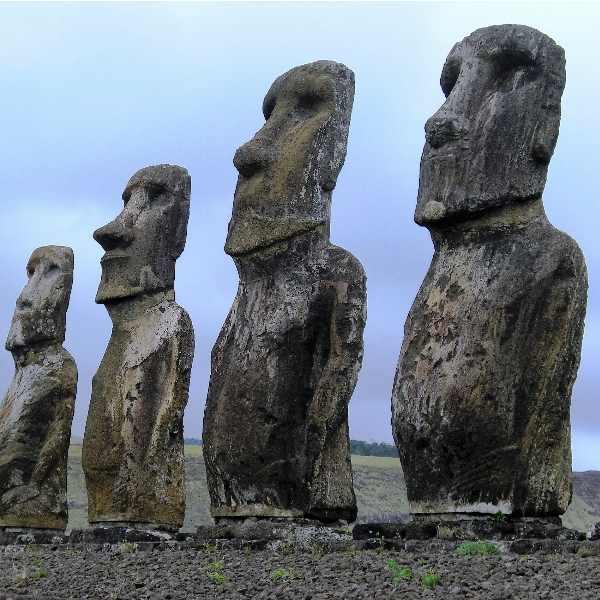 14 Day Easter Island and Atacama Desert Exclusive
Experience the full spectrum of Chile on this luxurious adventure that merges ancient history, modern splendor, and natural wonder. From the remarkable landscapes of the Atacama desert to Santiago's cosmopolitan delights to the mysteries of Easter Island and its famous monolithic heads, this tour has everything for the curious adventure-seeker with all sorts of stylish accents.
After arriving in Santiago, the adventure truly begins in humble San Pedro de Atacama, the front porch of the vast and majestic Atacama Desert. In this cool, arid moonscape of sand dunes, bubbling geysers, and ruggedly beautiful canyons, you'll take private tours of must-see sights like the Valley of the Moon, the wind-carved Three Marys and Pacana Monks rock formations, the El Tatio geyser field, and the stunning Tara Salt Flat from a luxurious spa lodge.
Back in Santiago, learn about Chile's complicated (and often brutal) Cold War past on a private tour of the capital's recent history, including visits to the grand Palacio de La Moneda, Pinochet's notorious Londres 38 prison, and the home of Pablo Neruda, Chile's beloved poet. Later, explore the city's lighter side on a delicious gastronomy tour complete with empanadas, Chilean pastries, and pisco sours, led by an expert private guide.
Next, Easter Island, home of the mysterious giant moai monoliths. Known to the locals as Rapa Nui, the world's most isolated inhabited island is filled with wonders beyond its famous stone sentinels. From a luxury lodge, you'll explore the Puna Pau (where the moai's red "topknots" were quarried), hike to the sacred Akahanga burial ground, and snorkel the impossibly clear waters of the motu islets, famed for their connection with the Tangata Manu "birdman" cult before returning to Santiago and home with a lifetime's worth of incredible tales.
Kensington Tours creates private trips from the world's finest ingredients. Tailor-made with care by your personal Destination Expert, your personalized trip is always a one-of-a-kind experience made just for you. Expert local guidance and 24/7 service come standard.
| Day | Description | View All |
| --- | --- | --- |
| Day 1 | Welcome To Santiago | Details |
| Day 2 | Santiago To Calama To San Pedro de Atacama | Details |
| Day 3 | San Pedro de Atacama | Details |
| Day 4 | San Pedro de Atacama | Details |
| Day 5 | San Pedro de Atacama | Details |
| Day 6 | Calama To San Pedro de Atacama To Santiago | Details |
| Day 7 | Santiago | Details |
| Day 8 | Santiago | Details |
| Day 9 | Santiago To Easter Island | Details |
| Day 10 | Easter Island | Details |
| Day 11 | Easter Island | Details |
| Day 12 | Easter Island | Details |
| Day 13 | Easter Island To Santiago | Details |
| Day 14 | Santiago | Details |