12 Day The Heart of India: Tigers, Temples & Taj Mahal
Booking Dates
06/28/2023 through 12/17/2024
Travel Dates
08/24/2018 through 12/31/2024
Provider
Kensington Tours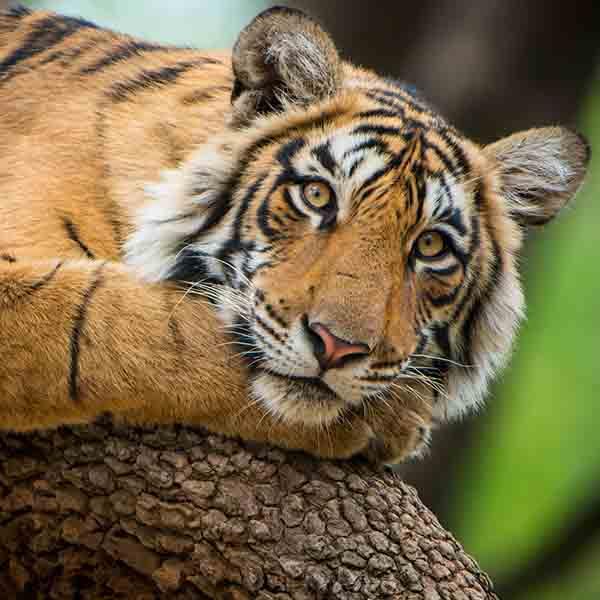 12 Day The Heart of India: Tigers, Temples & Taj Mahal

Enjoy a journey into the heart of India with its very exciting focus on tigers, unique temples, ending on a high note as you stand in front of the magnificent Taj Mahal. Bandhavgarh has established a reputation as one of the best places in India to observe Tigers, even though it is a relatively small reserve. Panna, the other national park on your itinerary is only about 20 miles from the famous UNESCO World Heritage site of Khajuraho, and the park itself boasts splendid scenery.
Your trip begins in Delhi with a rickshaw ride, accompanied by a private guide, around Old Delhi's tangle of lanes and colorful bazaars, including Asia's biggest spice market and famous sweetshops. Bandhavgarh National Park, the first stop on your tiger safari, was formerly the hunting reserve of a Maharaja. The spectacular ruins of a huge hilltop fort, towering an impressive 2,700ft above the forest, attest to its royal association. It's a steep climb, but the views from the ramparts are breathtaking. The 65 square miles of park area that are open to tourism is estimated to have a population of 22 tigers. That's about one tiger for every 3 square miles.
Drive from Bandhavgarh to your next stop, the national park in Panna – an easy private transfer of just under four hours. Located on the banks of the River Ken, the terrain is gorgeous with deep ravines, cascading waterfalls and thick teak forests, as well as sprawling flatlands, punctuated by deep valleys, gorges, and hills. Your morning safaris start shortly after sunrise, afternoon safaris last a couple of hours and end at sunset. You are accompanied by expert naturalists who are in tune with animal movements and can plot the day's safari. The range of wildlife is incredibly diverse, including wolves, sloth bears, nilgai, sambar, chital, wild boar and Indian crocodile. The deep gorge of Dhundhwa Sehais is the roosting spot for several vulture species as well as the Peregrine falcon. Closer to the expanse of the Ken River, dense woodlands provide a complete change of scenery. While crocodiles can be seen basking on rocky banks, leopard and tiger sightings are evenly distributed between the plateau and the valley.
After a few days of tiger tracking, you are just two and a half hours away from Khajuraho by private transfer. Khajuraho contains the largest group of medieval Hindu and Jain temples, which are famous due to the erotic nature of the sculptures. The monuments have been listed as a UNESCO World Heritage Site and are considered one of the "Seven Wonders of India". Finish your trip in Agra and the Taj Mahal for that one final and sublime 'wow' moment. A resplendent monument to love and an exquisite example of Mughal architecture, it is clear why it has captivated the imagination of travelers since ancient times. Try and see it at sunrise and sunset; the mood it projects, depending on the time of day, can be strikingly different.
Kensington Tours creates private trips from the world's finest ingredients. Tailor-made with care by your personal Destination Expert, your personalized trip is always a one-of-a-kind experience made just for you. Expert local guidance and 24/7 service come standard.
| Day | Description | View All |
| --- | --- | --- |
| Day 1 | Delhi | Details |
| Day 2 | Delhi | Details |
| Day 3 | Delhi To Jabalpur To Bandhavgarh | Details |
| Day 4 | Bandhavgarh | Details |
| Day 5 | Bandhavgarh | Details |
| Day 6 | Bandhavgarh To Panna National Park | Details |
| Day 7 | Panna National Park | Details |
| Day 8 | Panna National Park | Details |
| Day 9 | Panna National Park To Khajuraho | Details |
| Day 10 | Khajuraho To Jhansi To Agra | Details |
| Day 11 | Agra | Details |
| Day 12 | Agra To Delhi | Details |