Absolute Galapagos (Grand Daphne)
Booking Dates
06/21/2023 through 12/07/2024
Travel Dates
06/21/2023 through 12/10/2024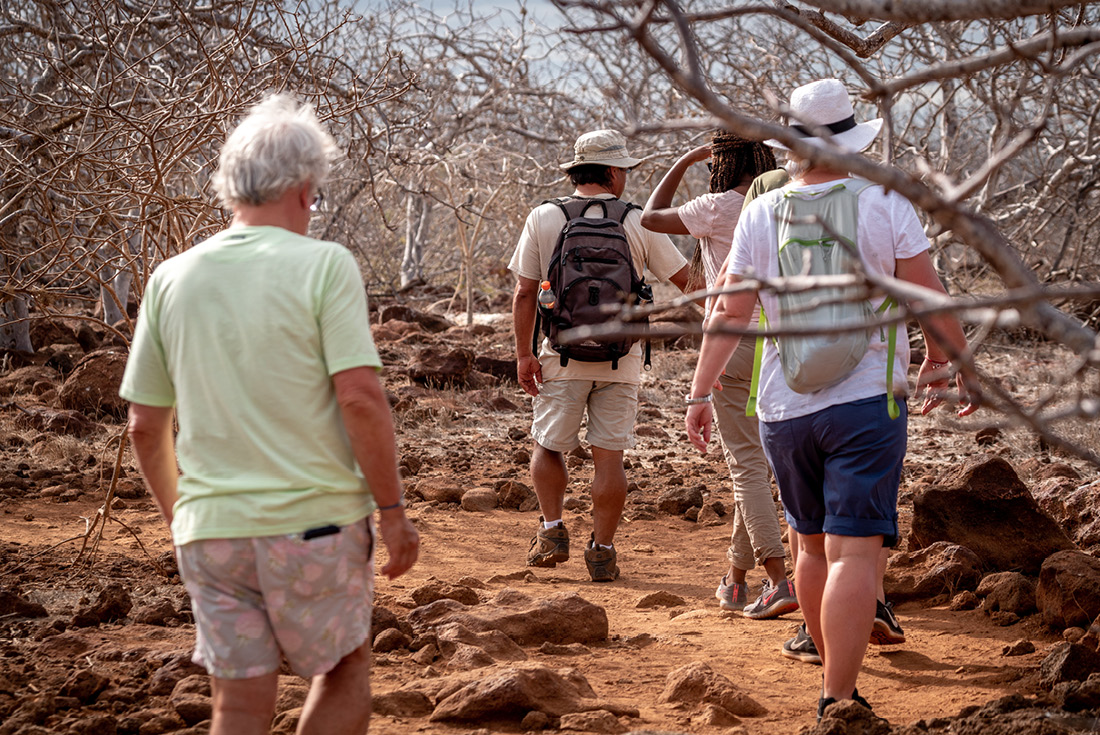 Absolute Galapagos (Grand Daphne)

Discover the endemic wildlife, bizarrely beautiful landscapes and underwater treasures of the Galapagos Islands on this immersive 17-day cruise. Explore both the traveller's favourites and quiter parts of the archipelago, all with a passionate local naturalist on hand to guide you over pahoehoe lava and through marine iguana colonies. Snorkel in clear waters off the coast of Isla Espanola, paddle through a green turtle breeding grove on Isla Floreana, look out for mottled Galapagos hawks on Isla Fernandina, and wander between sea lions lounging on beaches with red, black and white sand.

Activities
Isla Santa Cruz – Highlands Visit (1.5 hours) – Dry Landing
Isla Floreana – Post Office Bay – Walk (1.5 hours) – Wet Landing
Isla Floreana – Post Office Bay snorkelling (45 mins)
Isla Floreana – Punta Cormorant walk (1.5 hours) – Wet Landing
Isla Floreana – Devil's Crown snorkelling (1 hour)
Isla Espanola – Punta Suarez – Walk (3 hours) – Dry Landing
Isla Espanola – Bahia Gardener – Snorkel (1 hour)
Isla Espanola – Bahia Gardener – Walk (1 hours) – Wet Landing
Isla San Cristobal – Interpretation Center Visit (1 hour) – Dry Landing
Isla San Cristobal – Cerro Brujo – snorkel or beach walk (1 hour)
Isla San Cristobal – Kicker Rock – Boat ride
Isla Plaza Sur – Walk (2 hours) – Dry Landing
Isla Santa Fe – Walk (1.5 hours) – Wet Landing
Isla Santa Fe – Snorkel (1 hour)
Isla Genovesa – Bahia Darwin – Panga ride (zodiac)
Isla Genovesa – Bahia Darwin – Walk (2 hours) Wet Landing
Isla Genovesa – La Barranco – Snorkel (1 hour)
Isla Santiago – Sullivan Bay – Walk (1.5 hours) – Dry Landing
Isla Santiago – Sullivan Bay – Snorkelling (45 mins)
Isla Santa Cruz – Cerro Dragon – Walk (1.5 hours) – Dry Landing
Isla Santa Cruz – Bachas Beach Walk (1 hour) – Wet Landing
Isla Santa Cruz – Bachas Beach Snorkel (45 mins) – Wet Landing
Isla Rabida – Walk and Snorkel from the beach (2 hours) – Wet Landing
Isla Isabela – Punta Albermarle – Snorkelling (1 hour)- Dry Landing
Isla Isabela – Tagus Cove – Walk (1.45 hours) – Dry Landing
Isla Isabela – Tagus Cove – Snorkel (1 hour)
Isla Isabela – Urbina Bay – Snorkel (1 hour)
Isla Isabela – Urbina Bay – Walk (1.5 hours) – Wet Landing
Isla Fernandina – Punta Espinosa – Snorkel (1 hour)
Isla Fernandina – Punta Espinosa – Walk (2 hours) – Dry Landing
Isla Fernandina – Punta Vicente Roca Snorkelling (1 hour) Dry Landing
Isla Fernandina – Punta Vicente Roca – Panga Ray boat tour (30 mins)
Isla Santiago – Puerto Egas – Walk (1.45 hours) – Wet Landing
Isla Santiago – Puerto Egas – Snorkelling (1 hour)
Isla Santiago – Caleta Buccanero – Panga boat tour (1 hour)
Isla Santiago – Caleta Buccanero – Snorkelling (1 hour)
Isla Bartolome – Walk (1.5 hours) – Dry Landing
Isla Bartolome – Snorkelling (1.5 hours)
Isla Sombrero Chino – Snorkelling (1.5 hours) Wet Landing
Isla Sombrero chino – Walk (1.5 hours) Wet Landing
Isla North Seymour – Snorkelling (1 hours)
Isla North Seymour – Walk (2 hours) – Dry Landing
Isla Santa Cruz – Charles Darwin Research Station (1.5 hours) – Dry Landing
Isla Santa Cruz – Highlands Visit (1 hour) – Dry Landing
Highlights
With over two weeks spent on the archipelago, this trip takes a more leisurely pace. Spend more time on each island, soaking up the sun and the sea (lions).
Hike, snorkel, sleep, repeat – this isn't your average cruise. Get active in the rugged and isolated Galapagos Islands.
Sea lions are like the dogs of the ocean: playful, goofy and curious. And while you can't pat them, you're bound to fall in love with these furry frolickers.
Pink flamingos, red-throated frigates and blue-footed boobies will have you craning your neck, snapping photos and contemplating a career in ornithology.
Towering cacti, rocky cliffs, red-sand beaches and more await you in this otherworldly archipelago.
| Day | Description | View All |
| --- | --- | --- |
| Day 1 | Quito | Details |
| Day 2 | Isla Baltra - Santa Cruz Highlands | Details |
| Day 3 | Isla Floreana | Details |
| Day 4 | Isla Espanola | Details |
| Day 5 | Isla San Cristobal | Details |
| Day 6 | Isla Santa Fe - Isla Plaza Sur | Details |
| Day 7 | Isla Genovesa | Details |
| Day 8 | Isla Santiago - Isla Santa Cruz | Details |
| Day 9 | Isla Santa Cruz | Details |
| Day 10 | Isla Rabida - Isla Isabela | Details |
| Day 11 | Isla Isabela | Details |
| Day 12 | Isla Fernandina - Isla Isabela | Details |
| Day 13 | Isla Santiago | Details |
| Day 14 | Isla Bartolome - Isla Sombrero Chino | Details |
| Day 15 | Isla North Seymour - Isla Santa Cruz | Details |
| Day 16 | Isla Baltra - Quito | Details |
| Day 17 | Quito | Details |